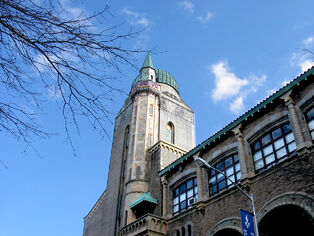 The northern district of Washington Heights is notable by being slightly nicer than the more crime-stricken area below it. The predominantly middle class neighborhood, often referred to as Fort George, is predominantly families that appreciate the cheaper mortgage rates and can deal with a longer commute into Midtown. The most notable building in the area is the Fort Washington Avenue Armory, which serves as a track and training facility for both residents and local colleges. 19th century Dutch and German churches are fairly common, though they are primarily hosting Hispanic parishes these days. Recently younger couples have moved into this area after graduating from New York City's various colleges, making this area multi-generational as well as diverse culturally.


Scenes Set in Fort George
Edit
Ad blocker interference detected!
Wikia is a free-to-use site that makes money from advertising. We have a modified experience for viewers using ad blockers

Wikia is not accessible if you've made further modifications. Remove the custom ad blocker rule(s) and the page will load as expected.