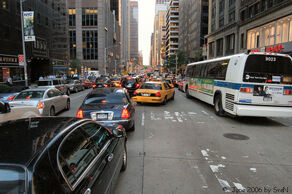 Midtown is divided into east and western parts, yet for the most part, it predominantly appears the same between 3rd - 6th avenues. This area of Midtown Manhattan is a mixture of many different businesses and high end skyscrapers that house everything from offices to store fronts. The famous FAO Schwartz toy store, Tiffany's, Rockefeller Center, and Trump Towers can be found here, and it is safe to say that Midtown East is a bit more high scale than Midtown West.
Scenes Set in Midtown East
Edit
Ad blocker interference detected!
Wikia is a free-to-use site that makes money from advertising. We have a modified experience for viewers using ad blockers

Wikia is not accessible if you've made further modifications. Remove the custom ad blocker rule(s) and the page will load as expected.