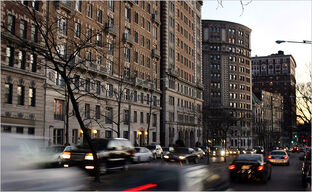 The Heights is primarily thought of as the "Academic Acropolis" within New York City due to the multiple higher education institutions in the area, primarily Columbia and Empire State University. As such, a high density of coffee shops and bookstores can be found here as well as affordable student housing. The area is among the safest in the city, despite having history related to the mob turf wars of the 30s and 40s. Tom's Restaurant, made famous by the sitcom Seinfeld, is located here as well as Grant's Tomb. Several bars are also located here, playing willfully ignorant host to not-quite-legal-yet drinkers and musical artists looking for somewhere to make their start.
Scenes Set in Morningside Heights
Edit
Ad blocker interference detected!
Wikia is a free-to-use site that makes money from advertising. We have a modified experience for viewers using ad blockers

Wikia is not accessible if you've made further modifications. Remove the custom ad blocker rule(s) and the page will load as expected.